The History of Eterna Gaming
NOTICE:
Welcome to the Official Website for Eterna Gaming. Enjoy your stay.
Index:
Here lies the entire history of the Multi-Gaming Community known as Eterna Gaming.
The Divisions involved may have a time period of our existence in the games through quarters of the year (January, February and March (Q1); April, May and June (Q2); July, August and September (Q3); and finally (Q4) which is October, November and December).
---
2014
March
(Q1 2014 – Q3 2014)
Eterna Gaming originally started in the widely acclaimed MMORPG: TERA in March 2014, when the guild name was simply ETERNA and created by Sarumonin and Dyscord. The website was created with Enjin.com and helped us immensely in organization for years to come. Late March it was decided that the name would be ETERNA GAMING. The guild became one of the biggest and most known guilds in the server (Ascension Valley) which led the guild to become a nefarious entity. ETERNA was quickly hated for "trolling" and its members hosting events such as "Noob Bowling" or random RP elements in major cities like "Virgin Sacrifices". After a while of the entire guild becoming the most well known operation in the server, the publisher of the game as well took notice.
The original intention of the guild was to just have fun and not care about anything, while trolling the entire server (however, we were never rude nor were we ever disrespectful. Just dumb.). After a few months after its creation, the entire guild was banned from the game due to many complaints from thousands of players in the server. We decided to pull out from the game and look at another game entirely.
On the left, you'll see the original logo created for ETERNA started use on March 24, 2014.
On the right you'll see the logo custom created for use mid April 2014.
---
May
(Q2 2014 – Q3 2014)
Our identity was finally reflected back at us when we started playing The Secret World. Though we knew that the original vision was a bit strayed, it transformed from a troll-like guild to a mysterious, gothic/cult-like community. All it took was driving into the game and fully immersing ourselves. Though we were still playing TERA, a lot of our members wanted to start slowly branching off to what this game had to offer. It was only then when we heard The Siren Song, which truly identified with who we were. The song itself was an amazing representation into what we had envisioned the community in being: a tight-knit family.
Our time in The Secret World and all the game had to offer was not long, as right around the corner Archeage was waiting for us.
---
September
(Q3 2014 – Q4 2014)
At this point in time (Mid-Late 2014), we were already trying out the Alpha server for Archeage. ETERNA GAMING at this point was re-branded to Eterna Gaming, and was already started to get some notice. Of course, the guild was a small thing that had almost no effect on Alpha server. As alpha phase kept going, we started looking into other games as well, along with different strategies to grow the guild.
From this point on, Eterna Gaming became a multi-gaming community and our text logo had become something brand new, something different.
The community had officially started, and it was a completely new experience for us. However, we started strong and knew how we wanted to grow the guild in Archeage. It was the very first game for us to truly test our limits and it all started out with a chart.
The positions in the guild were called Divisions (which we later started using as a term for all our games that we were involved in.) The guild was highly active and once the game launched, we landed on the Ollo server.
New experiences from growing the guild, to making a gaming community, to creating alliances. This was all a brand new world for Eterna Gaming and it was just the beginning. It was also the very first banner we created that would have the iconic Eterna Gaming brand on it just to let people know we were recruiting.
Of course, after a couple of months into the game and though the Alpha and Beta testing were absolutely the best gameplay we've ever encountered, the game became something else we did not want. The unstable system of the game from the Cash Shop to Hackers and even how the publisher was treating its fans, we thought it best to leave after Thunderstruck trees were introduced to the Cash Shop. That was the last straw for us as we knew the path the game was going.
---
Late September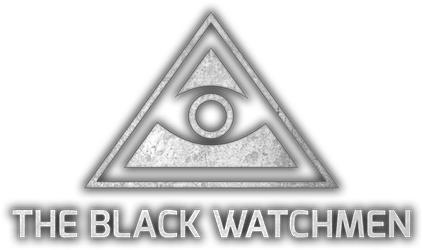 Our very first partners, which all started in September 2014 (Source). Thanks to The Black Watchmen, we were able to properly market ourselves as a brand new Multi-Gaming Community. We helped with promoting the game and comic book extensively, along with becoming their corporate sponsors. As partners we both helped each other in amazing ways.
We are now featured in their comic book, which can be seen here:
---
November

(Q3 2014 – Q4 2016)
By November 2014, we had some footing in the gaming world and decided to test the waters in a new MMORPG that was bound to revolutionize the way we see gaming, Skyforge. The Alpha was ready to release and we were ready to recruit. It all started with recruiting in game and then the forums, just as planned and an abundance of members started applying to our website.
Little did we know that Skyforge would blow up the name Eterna Gaming to a whole new dimension which would change our entire lives.
From becoming a small pantheon in 2014, to staying in the top 3 pantheons of all North America for an entire 2 years, even claiming #1 for many months.
Eterna Gaming was the most well-known guild in North America for Skyforge, and that paved the way for greater things in the future. From Server Firsts to keeping in the top 3 pantheons, our name rang a bell to anyone that played Skyforge.
Skyforge officially launched July 2015 and even before the game launched, we remained true to our goals and our sense of community.
---
2015
May
(Q2 2015 – Q3 2015)
Before Skyforge officially launched, we were recruiting for and playing Echo of Soul (May 2015). Our plan in Echo of Soul was really just to play the game and wait until Skyforge released. This was the very first game that we had partnered up with a Publisher, in this case Aeria Games, and started doing giveaways. We had not done this before, but it created a great bond between Eterna Gaming and Aeria Games.
Eterna played amongst the best and remained in the top 10 guilds for the server, until we decided to leave the game a couple of months later. The game came out late May 2015, and we were ready to launch ourselves into Skyforge in July. We played the game as much as possible and found some amazing people that we would have never met had we not played the game. There were no real achievements in Echo Of Soul other than remaining in the top 10 guilds for the time we were there.
---
July
July 10th 2015, we were featured on Enjin.com for our website's design and overall structure. You can check out the featurette and interview here: https://www.enjin.com/blog/post/id/3376872
---
September

(Q3 2015 – Q4 2015)
September 2015, we opened up a new division for the release of a Pokemon MMORPG known as Pokemon Revolution Online. Though our time was short in the game, our guild was widely known for creating community tournaments, having the rarest pokemon and taking down the big shots.

---
Late September
(Q3 2015 – Q4 2015)
Late September 2015, we began recruitment for the widely acclaimed MMO known as Wildstar. Though our approach was a bit different in the game, we wanted to try to maintain our sense of self. The Wildstar division grew extensively, and as the division grew so did the charter. We decided to change The Charter of the community to better reflect the vision we were aiming for as a community. The Wildstar division opened our eyes to much needed changes, which now reflect on our official site.
---
Late September
(Q3 2015 – Q4 2015)
Much like Wildstar, during late September, a few of our members decided to grow a small sub-division into an official Division making our Guild Wars 2 guild grow and blossom like no other. Though our time wasn't long in the game, the division allowed us, along with Wildstar, to make changes very necessary to the growth of the community. It wasn't until the beginning of 2016 that both the Wildstar and Guild Wars 2 divisions disbanded to join the Blade and Soul division.
---
October
(Q4 2015 – Q1 2016)
The Dragomon Hunter division was created in early October 2015. Our relationship with Aeria Games was already solid and we had a great partnership up to date. The guild was invited to play the early stages of the game, and a lot of our anime-loving members fell in love immediately. Though Blade and Soul was to release a few months later, we wanted to cherish every minute we could in the game.
Our guild waged war with many others, and we became the #1 guild for collection. The Guild Leader at the time had all the rarest dragomon that could only be caught once. Though we remained in the top 5 guilds for the server in terms of PVP, we were dominant in PVE.
---
October
(Q4 2015 – Q3 2016)
Blade and Soul was highly anticipated among the community members and even among the MMORPG fans. We officially started recruitment in July 2015 to ensure that we would have a nice core membership when the came released later that year. This was the second game we invested ourselves into and had a different form of strategy for.
Blade and Soul allowed our guild to get into the Alpha Phases and test out the content. It started out nice and small, and we recruited a little bit.
Alpha 2 we expanded just a little.
We became more and more recognizable, until finally in CBT (Late 2015) phases we grew not only in strength and morale, but as well in numbers.
We were the biggest guild in Blade and Soul, even come release in 2016, however as with many great promises in games, something always goes wrong.
---
2016
March
(Q1 2016 – Q2 2016)
Blade and Soul had just released early 2016, and our efforts had gone strong and not unheard – it was closing time for Black Desert to release and this meant a large portion of our members were getting excited. Though our recruitment started in late October 2015 for Black Desert, the Division was officially formed the same day Alpha was introduced on October 27, 2015.
The game officially came out on March 2016, and we were on our way to set a mark in the world. From rising in the ranks to working together to take down some bosses and dungeons, our teamwork was noted.
The Black Desert Online division ran a short course, but it ran effectively and most of all the members involved enjoyed the game for what it was.
---
May
On May 2016, we decided to leave Enjin.com behind and go to our own hosted servers, website and resources. Though it was a costly move, it ended up changing the way our entire forum structure and website worked. At the end of the day, it helped our brand and how we wanted to portray ourselves.
---
Mid May
(Q2 2016 – Q4 2016)
On May 2016, Riders of Icarus released to the world and Eterna Gaming was ready to take the game by storm. Recruiting some amazing players and making ourselves known, it was bound to be a glorified experience.
The guild and its alliances grew to be widely recognized in the game, along with some amazing gameplay and strategic moves from the Riders of Icarus Division, it quickly came on top when it came to content clearing.
The Riders of Icarus division has left an imprint in the game and continues to be a template for other guilds.
---
June
(Q2 2016 – Current)
On June 2016, we began recruitment for the NetEase AAA MMORPG: Revelation Online. At the time, there were no real social media to connect to or speak with other fans or guilds for the game. Our very own Cryy created the Revelation Online Community Discord, which was based for the Chinese version of the game alone. Later on, the ownership was passed on to Sarumonin which allowed him to expand the discord into new horizons.
By creating this Discord server, alongside it's beautiful website dedicated just for it (www.RevelationDiscord.com), we have been working hard to make sure that everyone that is a fan, is interested or just wants to hang out in Revelation Online – has a place to do so with Discord. We are hoping that with all members under one roof, we can truly work together to create some amazing events, tournaments and even giveaways in the future with My.com!
We have been working with the team over at My.com to try and make sure they understand there is a large fan base waiting for this game – they are slowly coming in to our Discord server and helping others with any concern. Whether it is answering questions or directing them to wherever they can – They have been a blessing!
Creating Facebook Group fan pages for giveaways and news, interviews with My.com, along with becoming recognized by NetEase, the developer (Source), Eterna Gaming immediately became a name easily known by the fans of the game. We started hosting events such as the Guild Fair before CBT 1 in order to rally up some hype for the game, which grew not only our name but the sense of community that we intend to bring to games. It was a humbling experience.
Revelation Online was also a brand new experience for us as we wanted a change. Originally our plan was to go in as a Semi-Hardcore Guild ready to enjoy the game and take it by storm. However, after a look at the community, it seemed we needed a big change. This meant changing into a Hardcore division and testing the waters for the game. Ultimately, after much trial and error, it was decided (Source) not only that we had lost our vision for the community, but that we needed a change. Years had already passed and we had remained the same.
We had changed our entire branding process, from our logo:
To even changing the way we deliver news, the way we treat our community, and most of all the way our structure is set up for the community. We started by changing the Revelation Online division back to Semi-Hardcore and throwing away any sense of Elitism and just enjoying the game while trying to be competitive after being further into the game. This strategy worked for Skyforge in the past and it led to a completely successful division and grew Eterna Gaming as a whole new entity. It from this point that we decided it was time to completely restructure ourselves, and this meant retiring our old divisions such as Skyforge, Final Fantasy XIV and Riders of Icarus. Though a small fallout with members from the community had caused the spark to remove these Divisions, it was not left in vain. (Source)
It was high time to change our ways and not only that, change the way people look at us and our vision alike. We opened our doors to our website and registration to absolutely anyone as we then realized that our website was for the community, and we should not be restricting our community to anyone. It should be open. However, our Divisions themselves would have a different rule-set.
© 2017 Eterna Gaming. © 2014-2016. All rights reserved.
All copyrights belong to their respective owners.
All Press Requests Direct to info@EternaGaming.com